View All Videos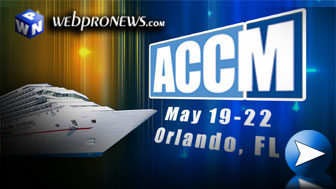 Got An Online Catalog? We Can Help

The ACCM conference is the nation's largest conference for catalog, Internet, and multichannel merchants, and WebProNews Managing Editor Mike McDonald is on location in Orlando to pick the brains of the best branding and marketing professionals in the business.
All this week, our team of writers, Mike and the WPN video crew will be updating with videos and articles about important e-commerce topics like pay per click, search marketing, site design and function, and online branding.




Here's what we've learned about so far:



Better Links For Higher Search Rankings

Search Engine Reputation Management

Retaining Customers With Better Content

Put The Squeeze On PPC

Brand As A Work In Progress
Recent Videos:

Forging An Emotional Connection With Your Brand
George Hague is the vice president of J. Schmid & Associates, a catalog marketing firm. In this video Mike chats with George about creating a brand that connects with customers on an emotional level, and why the marketing world has shifted from 5-year strategies to 3-year strategies.
Tuesday, May 20, 2008


Google, known more for its relative silence than its grand Steve Jobs-y "one more thing" type presentations, gave onlookers an extensive "Search Factory Tour" yesterday via webcast. Two and a half hours later, there was a lot of news to report.

Google's vice president of search products and user experience, Marissa Mayer, emceed the event, which would include revelations about local search, universal search, Google Health, and ads on Google Image search.

Presenters at the event included R.J. Pittman, Google's search product management director and co-founder of Web 2.0 search company Groxis, who spoke about Google's experiment with placing display ads with images; Johanna Wright, director of search quality, who relayed where Google is going with universal search; and Microsofty-turned-Googler, Carter Maslan, who said local search isn't as easy as one might think.

Mayer provided the one-more-thing by officially unveiling Google Health, which allows people to store their medical history online and decide which medical services providers can access it - a sort of data portability for your health records.

Rather than detail all of the announcements in one dense post, we've divided them up into nice digestible chunks.




Google Health Goes Live
Marissa Mayer officially lifted the lid off Google Health, leverages partnerships with medical organizations and pharmacies to help patients manage their health records online. The idea is that new doctors and/or approved pharmacists can access records without a hassle. Privacy, of course, will be a concern.
»
Read the rest...
Google Sees Big Challenges With Local Search
"We used to joke about Google helping you find your keys," said Google's vice president of search products and user experience, Marissa Mayer. Mayer was referring to the various advances Google is making in localized search products, and defers to Carter Maslan to talk about specific challenges in creating true and natural local search results.
»
Read the rest...
Google To Place Ads With Images
Google is experimenting with display ads to be placed alongside Google Image results. Contextually matching ads with images is a difficult task and requires some pretty sophisticated technology. Add human variations in labeling and you've got a recipe for confusing search robots.
»
Read the rest...

Microsoft Introducing Ads To Zune Social
Xbox, Surface among products next in line
Advertising, Zune, Microsoft...
Lieberman To Google: Stop Terrorist Videos
YouTube carrying terrorist-branded videos
Google, Terrorism, Joe Lieberman...
Google Thinking Hard About Microsoft's Yahoo Offer
Antitrust concerns may keep Google away from Yahoo search ads
Google, Yahoo, Microsoft...
Busted: Eight Ex-AOL Execs Charged With Ad Revenue Fraud
Four will fight, while four have settled
Advertising, Legal, Time Warner...
YouTube Rolls Out New Features
Search suggestions, demographics
Search, Technology, Social Media...
Jimbo Wales Channels Sly and the Family Stone
Everyday Arabs To Make Internet Debut
Social Media, Wikipedia...
Gordon Brown Using YouTube For Question Time
Says it will be a regular event
Technology, Politics, YouTube...
"Save XP" Effort Collects Over 200,000 Signatures
Countdown to critical juncture continues
Microsoft, Windows XP...
Online Publishers Doing Well In Slow Economy
Growth rate at 23%
Technology, Advertising...
Microsoft: Our Online Branding Needs Work
MSN, Live, who keeps up
MSN, Branding, Microsoft...
Microsoft's Yahoo Alternative
Two sides began talking again
Deals, Yahoo, Carl Icahn...
The Stones Went Social with YouTube
...now see how it went.
Social Media, Rolling Stones...






Confused about links

Our featured post today comes from inertia. He has been posting on a couple blogs trying to get traffic to a website, but it's not given him the traffic he had hoped for. Do you think it's still worth the effort getting links from blogs? Tell us your thoughts at WebProWorld!

Subscribe to the WebProWorld Feed



I am involved with link building for a couple of clients and regularly post on industry blogs on their behalf. This does bring them some direct traffic but it's minimal. I am analyzing whether the time spent by me would be better spent on content creation...

Now most blog comments have "nofollow" added to them is posting on blogs worth it? I know I will get a chorus of "do it for the traffic" but to be honest I have seen very little traffic from the blogs which I post on. This raises the question of whether it is worth the time to do this?

Do people think that the "nofollow" attribute completely discounts the link or does it just stop PR transfer? Does no follow link text still have an effect on SERPs and semantics?

Also, what (if any) is the difference between rel="nofollow" and rel="external nofollow"?


">Unsubscribe from WebProNews.
To unsubscribe from WebProNews or any other iEntry publication, simply send an email request to: support@ientry.com