View All Videos
Matt Cutts on Changes at Google

We previously brought you a video report in which Bruce Clay made a claim that "ranking is dead." In the above WPN video, Matt Cutts of Google responds to that assertion. Matt does not completely agree with Bruce that "ranking is dead" but does announce that it is not as important as it once was.

» What do you think?

Bruce Clay: Ranking Is Dead!

In the Top-Shelf Organic SEO session at PubCon 2008, Bruce Clay made some very significant predictions regarding SEO. As we all know, SEO has advanced in many areas over the past several years. Compare your current searches to that of just 2 years ago. Quite a bit of difference in the results, huh?

» Let us know your thoughts

Making Your Social Media Campaign Work

Social media has taken over. Honestly, everyone is using it now and not simply for social reasons. Companies now realize how powerful it is for raising brand awareness and engaging with customers. But a lot of money can be lost if a social media campaign is not efficiently conducted.

» Give us your comments



eCommerce sales taxes
Posted By: Calius

The other day on WebProWorld I read the following message - I've copied it here - and sent it on to my web mistress. She replied that the quote following was silly and totally wrong. However, I thought that I'd run it by the experts here to get your feedback - a second opinion so to speak...

» Read the rest

Thursday, November 20, 2008


WebProNews' Mike McDonald caught up with Matt Cutts of Google at the Hofbrau House in Las Vegas during PubCon to get his views on a number of topics.


---
Editor's Note: Matt Cutts gives his take on ranking, Universal Search, the changing face of SEO and what to look for in 2009. Let us know what you think in the comments section!

---

Is Ranking Dead?

Cutts said, "I'm not sure I would say ranking is dead but it's not as important as it used to be. The fact is the smart SEOs are not just necessarily looking at the rankings. They are looking at conversion, they are looking at their server log. It's great if you're ranking for a phrase but unless that leads to sales that doesn't help you very much."

"The challenge is not to pay so much attention to ranking, pay attention to traffic, pay attention to conversions and keep building good content and don't worry about 'can I show people that I rank number one for my trophy phrase.'"



Universal Search In 2009

"Universal is really useful and I think it will continue to expand and what that means in 2009 you can't just think of yourself as an SEO," said Cutts.


"SEOs are starting to embrace the fact that they are marketers. It's a broader spectrum. You have to think about how you build buzz, how do you get loyal customers, how do you optimize your ROI. All those different things and that can include how do I make good videos, do I have a book, things like that."

Cutts says that people will continue to pay attention to video and images in 2009 but noted a down side. "Of course anywhere there is money there will be spam." Google has been focusing on its different properties to manage the spam issue.

Metadata

Google has gotten better on Flash and submitting a video to video sitemaps is really helpful in getting onto Google Video Search. "We want to be able to present video from all kinds of places," said Cutts.

Video File Format

"Whatever file format you want to use is totally fine."

Mobile

Cutts says that just because search engines are getting better at Flash does not mean mobile is. On mobile devices you can't just think about search engines. You have to think about the user experience.



Competing with Black Hat SEO

"Black Hat SEO is getting a little more malicious. In a world where Black Hat is moving towards really illegal things as an SEO you have to decide your risk tolerance and do I really want to try to compete with people who are doing illegal stuff or do I want to make a long term site that's gonna stand the test of time."

Subdomains

There is no real advantage to using Subdomains. If you have a lot of Subdomains that can be a lot of work. You don't want to overdo it. Really it's what ever is easiest for you.




About the Author:
Mike is a staff writer for WebProNews.
---
AdSense Optimization Tips
By Chris Crum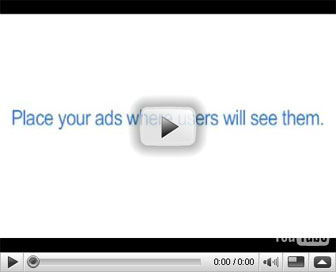 Google has been providing tips for optimizing AdSense ads to enhance their performance. The company has provided a three-part video series on this subject, which it has just released the final installment for.

Tell us what you think.



The key items to note in this final video is that when positioning your AdSense ads for performance:



- Ad units placed at the bottom of the page don't perform as well.

- Place Your Ads Where Users Will See Them

- Ad Units Perform better when they are placed above the fold





77 comments
Will Personal Search Turn SEO On Its Ear?
Bruce Clay Talks Big Changes in Ranking Due to Personalization
Search, SEO, Google...
Facebook, MySpace Beneficial To Teens
Helps them learn
Technology, Social Media, facebook...
1 comment
Yahoo Glues Together Relevancy
Launches New Yahoo Glue Service
Search, Yahoo, Glue Pages...
Google's Lively Receives A Death Sentence
Plug to be pulled at year's end
Google, Linden Lab, Lively...
Where Twitterers Go to Complain
Kvetch lets you "let it out."
Social Media, kvetch, social networks...
Google Wants Your Questions for D.C. Meeting
Use Google Moderator
Technology, Google, Government...
1 comment
eHarmony Settles Lawsuit, Starts Gay Site
Set to Launch Same-Sex Dating Service
Legal, compatible partners, dating...
2 comments
Gmail Brings Style And Color To Your Account
30 new themes
Google, Email, gmail...
Google Docs Offers New Holiday Templates
Be merry, boost its market share
Google, Google Docs, Holidays...
TypePad's Blogger Bailout For Laid-Off Journalists
Quite a Package from Six Apart
Print Journalism, blogging, six apart...