Staying Power Of The Friendster Post
I've noticed a recent spike in hits to my famous Fired for Blogging post, in which I broke the story of Friendster's stupidest move and tracked the growing coverage for a few days.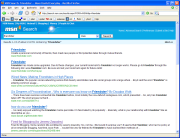 So I decided to investigate a bit.

It turns out that much of the traffic is coming from MSN Search, where a search for friendster yields that posting just "above the fold" in the #6 position.

Note to MSN Search: consider numbering the results. I shouldn't have to count to figure out that this was the 6th result on the page.

Anyway, I've captured the moment in the screenshot above, just for kicks.

Yes, I'm easily amused.

Oh, here's a quick side note. Not surprisingly, Friendster continues to lose smart employees and, rumor has it, many more are currently shopping their resumes in the valley.

Note to Friendster engineers: we're hiring. Ping me if you're interested.

Receive Our Daily Email of Breaking eBusiness News


---
About the Author:
Jeremy Zawodny is the author of the popular Jeremy Zawodny's blog. Jeremy is part of the Yahoo search team and frequently posts in the Yahoo! Search blog as well.

Visit Jeremy's blog: Jeremy Zawodny's blog.


WebProNews RSS Feed

More Articles

Contact WebProNews