Oh yeah, the holidays... It came to my attention that the holidays are upon us. If you're like me you may have procrastinated some on your gift shopping. If you went and bought gifts you may still have some marketing to do.

If you'd like to share some last minute strategies, or learn what other readers are doing, click here.

Today I called Joanna Krotz, the Marketing Intelligence Editor for Microsoft's bCentral and owner of muse2muse productions, a marketing firm in New York. I asked her what she'd suggest to businesses who wanted to get out a last minute marketing message.

The email blast. Her first suggestion was to send out an email blast, (be sure to read the post about keeping email legal) but don't send the same message to everyone.

Segment your list into three categories, and focus your attentions on your very best customers. Save your best deals for these customers, as they're the most likely to buy.

"Presumably," said Joannam, "you'll already have a database and many kinds of software can do this for you."

For your top-tier customers you can "send an email offering an official deal or private shopping afterhours or something your customers can print out, such as a coupon for an extra 15% off, or a free service, or a sample, and so on."

"Depending on your customers, mid-level could get about 8-10 percent off, a smaller amount, and your mass customers could get an even smaller amount off."

Her main point though was that you should "make your best customers feel special." She puts extra emphasis on this. "Say, 'Thank you so much! Here's your reward...' The power of thank you is enormous."

What about services? "There are many things that professional services can do. It's about acknowledging your business, not getting people to buy at the last minute. It would be smart for your business."

She recommended that "any business service where everyone tends to fade away from December 19th through January 1st. Trying to build business over that period would be a good idea..."

Last Minute Offline Strategies. Another suggestion was cause marketing -- such as helping with a charity event. "Invite customers and clients to spend Monday at your place packing up boxes of soup for the homeless shelter. Nowadays, people are very receptive to that kind of marketing. Start a community service program. Send a card. It doesn't have to be fancy."

Some other suggestions:

Invite customers in and invite local kids from the YMCA or another organization and have a party.
Ask your customers to do volunteer work with you at a homeless shelter
"I think free samples are always dynamite idea. It's not very expensive. It could be just a little giveaway. People are enormously tickled by getting something for free."


"Search engine optimization is becoming more and more effective, but it's tricky. It's sophisticated. You need testing. I would not suggest starting it at the last minute."

Read Joanna's marketing articles here.

Questions? Comments? Send them in!

Happy Holidays!
Garrett + WebProNews Team
8 Uncomplicated Strategies = Marketing Success!

By Charlene Rashkow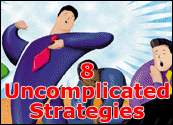 Although most of us know that we need to promote our products and our services, some of us still believe we're too small to invest in a promotional campaign. And while a full-fledged marketing effort may too much for your business, it is however crucial to your success that you're involved in some marketing activities. Putting a few simple strategies into action will make a significant difference to your business and will surely help in reaching your intended audience. After all, if you don't spread the word about your business, no one will know you're out there.



Click Here to Read the Full Article
About the Author:
Charlene Rashkow brings 15 years of experience as a Writing Stylist and Author to her creative efforts as a freelance business writer/consultant. She has successfully helped companies and individuals reach their objectives by writing outstanding press releases, bios, articles of interest, business plans, resumes, web site content and all other forms of marketing material. To speak with Charlene you may contact her at http://www.allyourwritingneeds.com or write her at info@allyourwritingneeds.com. You can also call her directly at (310) 514-4844



The most wonderful time of the year can also be the most stressful time of the year so thank goodness for Joanna's last minute marketing advice! WHEW! I know what my New Year's resolution will be: I'm going to stop procrastinating.... starting tomorrow! ;)

A few things I've been wondering are the effect CANSPAM will have on email marketing and what changes are in store for Google... It should be interesting watching all of this unfold.

Do you have a New Year's Resolution yet? How about an e-business related goal for 2004? Do you want to boost ROI or gain a new client? Or is your goal something as simple as redesigning your website? Click here to see what others are hoping to accomplish this year and share your own ambitions.

The WebProWorld Team would like to wish you the best of luck and lots of holiday cheer -- just try not to go overboard with the eggnog, okay?

|| Brittany ||

Who's Time and Money is spent?

By Roger J. Zamofing

Dear Sirs:
Any serious marketer should ask this question. And the next one should be, in which way does it contribute to life. If I get 250 mails ... I am really losing time and money and I am annoyed by that kind of disrespect towards my privacy. I am also losing real customers and partners writing and further more I DO NOT READ even stuff that usually I am interested in, if people would ASK to send me their information.


What are your Goals for 2004

By ofoglada

What are your Goals for 2004?

Being I opened the door I'll start off. I am hoping to build my 100th site in 2004. Only 12 more to go and I have 3 on their way out at the moment. It will be my 11th year in the industry and quite a year at that. Secondly Im hoping to stay employeed through christmas 2004. I have a bad tradition of getting pink slips for christmas that I hope to defeat.




<!-He STARTS HERE-->
<!-He STARTS HERE-->